HD Encoder Modulator (HM-1000HD)
Trader

South Korea
Product Detail
Information
Let's Broadcast Full HD!
Introduction
Able to transit HD input signal to Full HD output broadcasting signal
Available for multi-channel HD broadcast (4Ch/Unit)
No time lag of modulation signaling guarantees natural, high quality full HD broadcast for viewers
Able to send HD video signals up to 1,200m distance without quality weakness
Capability of expanding numbers of channels upon customers' needs
Multi-channel encoding allows you to save your budget.
Adopts both HDMI/Component and Stereo/Embedded Audio
Specification
Input
Video
Component, HDMI (HD-SDI option)
Audio
Stereo, Embedded Audio
Encoding
Video
Encoding Format
MPEG-2 MP at HL
Encoding Rate
5~99Mbps
Chroma Format
4:2:0 / 4:2:2
Audio
Encoding Format
MPEG-1 L2 or Dolby AC3
Sampling Rate
32, 44.1, 48KHz
Encoding Rate
MPEG-1 L2 : 32~384Kbps / Dolby AC3 : 56~448Kbps
Output
RF
Modulation
8-VSB
SNR
Over 30dB
Group Display
20ns Less
Frequency Range
54Mhz~1GHz
Phase Noise
-103dBc/Hz Less
Output Level
-20dBm
Impedance
75Ω
Return Loss
Over 15dB
Spurious
-60dB
Frequency Tolerance
±5ppm Less
Frequency Response
±0.5dB
Application
3D Matrix Controller + TBS-9000HD + TALENT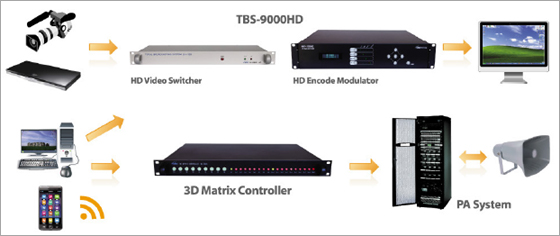 Audio


. No barrier of input and output usage
. Matrix mechanism allows both independent and overall speaker units controlling on demand
. Strong capability to cope with emergency situation
. Alert, evacuation, alarm, chime function
. Flexibility of controlling by PC or mobile phone

Video


. Capability of full HD video broadcast
. Multi-channel broadcast on demand
. System controlling by PC with software
. Both SD and HD video resources are applied.
. Customizing channel expansion
. Software controls audio and video together
. Inserting Images, subtitles, graphics on screen

* SD video resource broadcasting required additional SD video broadcast equipments.
3D Matrix Controller + TBS-9000HD + TALENT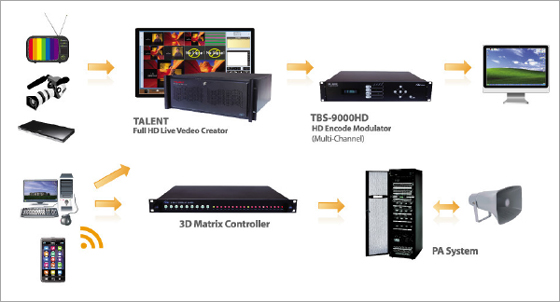 3D Matrix Controller + PA System + TALENT + LCD Projector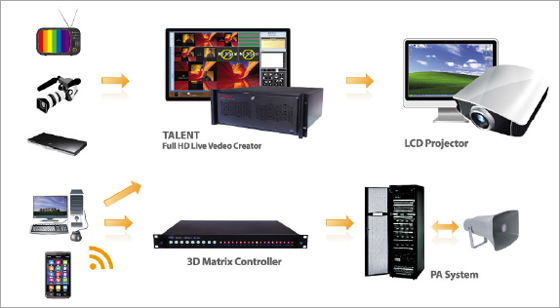 TBS-9000HD + TALENT + Streaming/VOD Server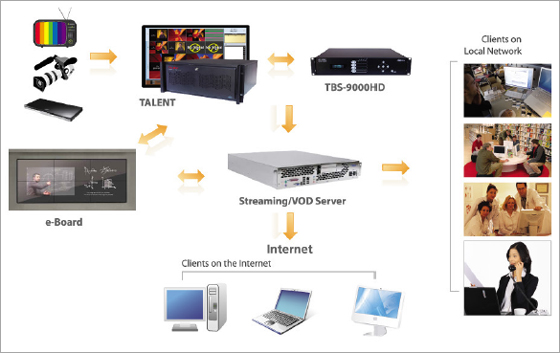 TALENT + Video Wall